LinkedIn Messaging That Converts Leads to Clients
Share This Post, Choose Your Platform!
LinkedIn Messaging That Converts Leads to Clients
Share This Post, Choose Your Platform!
LinkedIn has been pivotal in growing my content agency to almost $20,000 a month in revenue, and it's a huge part of my program, Revenue Spark, where I teach freelancers how to land high-paying clients and grow their businesses. A lot of professionals are terrified of reaching out to their leads in a direct message because they don't want to come across as spammy or salesy. If you do this the wrong way, yes, you'll drive leads away. But the LinkedIn messaging feature exists so that you can talk to each other!
If you want to use LinkedIn messaging to communicate with leads and move them toward the close, keep reading for five pro tips, from me to you.
Psst! Do you prefer video over text? I've got you covered.
5 LinkedIn Messaging Tips to Convert Leads into Clients
First, we need to understand the goal of LinkedIn messaging. It is not to sell. We are not cold pitching. But this is LinkedIn cold outreach.
There's a difference!
The goal is simply to start a conversation with your lead so that you can eventually pitch your services. We are reaching out to a cold lead. But we are not selling to a cold lead. Make sense?
Okay, let's keep going.
Tip #1: Only Say What You Absolutely Have to Save to Move the Relationship Forward
If this is your first time talking to this person, and they open a message that's a giant paragraph of text, they're not going to read it. They're going to roll their eyes and move on with their life.
People are short on time and patience, and they're already kind of suspicious when they get a message from a stranger. So, don't fuel that suspicion.
Eliminate any pleasantries, small talk, or fake flattery. What I mean by that last one is do not try to get their attention by kissing their bum. It's incredibly transparent. Be authentic. (Now, if you have a genuine compliment to give them, that's another story.)
One common objection I get to this is, "Won't I come across as rude?" No. You can get straight to the point without sounding abrasive. If anything, your leads are going to appreciate that you're not wasting their time.
Alright, so you cut out the small talk. What can you say?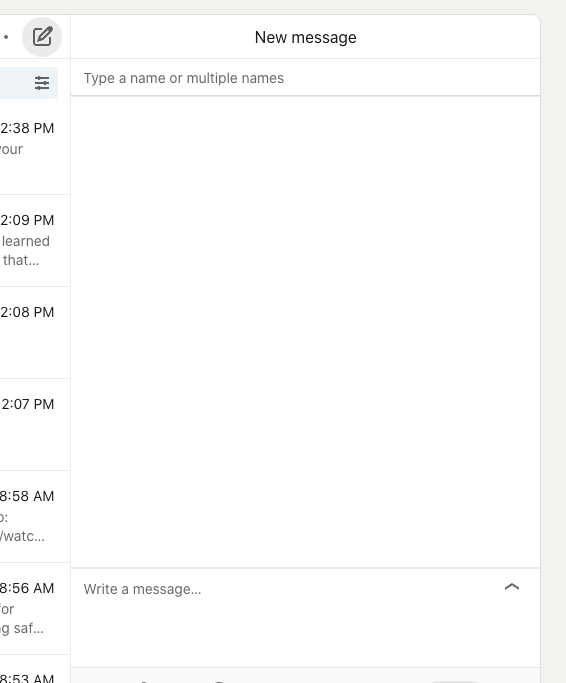 Tip #2: Tell Them Who You Are, What You Do, and Why You're Reaching Out
This isn't about giving them your life story. They don't need it and they don't care about it. In my LinkedIn messaging, I almost always say, "My name is Megan and I'm a writer. I'm reaching out because I'm interested in blogging for [COMPANY NAME]."
I'm telling them (1) who I am, (2) what I do, and (3) why I'm reaching out. These are really the only details about me that they need for now.
Tip #3: Tell Them What Kind of Help You're Looking For
Again, this is about transparency. Why are you reaching out to that person? What do you need? Tell them. Or rather, ask them.
In my message, because I'm selling my blogging services, I need to speak to the person who manages the blog. That may or may not be who I'm messaging. So I'll either say, "I'm trying to reach the person who manages your blog. Are you the right person to speak with?" or "Can you point me in the right direction?"
Tip #4: Follow Up
People forget to respond. Your message might get buried. Who knows? Your leads need a gentle reminder. Keep your follow-up message very brief. I'll say something like, "Just following up in case my last message got buried."
Don't be discouraged if you need to follow up. Also, don't assume that you're being ignored. This is a very natural step in the process.
Tip #5: Be Really Careful with Your Tone
The is less concrete but it's important nonetheless.
You're reaching out to this person using LinkedIn messaging because you need help. Be genuine. Be transparent. Don't try to screw with them because they're going to see it coming a mile away. Some people on LinkedIn get messages from strangers similar to you trying to sell them stuff every day. You can stand out a lot simply by keeping it real.
Remember the purpose of LinkedIn messaging is just to get the conversation going so that you can eventually tell them what services you're offering and how you can help them.
Don't try to sound like anything. Just talk like a human being having a conversation with another human being, because that's all it is. Imagine having this conversation in person. Talk like that and move it online. That's it.
I've used and continue to use LinkedIn and email outreach to grow the clientele of my content agency. LinkedIn, your free account, is your best ally. (If you're considering upgrading, read my blog on LinkedIn Sales Navigator first.)
If you want to learn exactly how to land high-paying clients, then Revenue Spark is what you're looking for. Join our community and scale your business to new heights.