LinkedIn for Freelancers in 2022: The Ultimate Guide
Share This Post, Choose Your Platform!
LinkedIn for Freelancers in 2022: The Ultimate Guide
Share This Post, Choose Your Platform!
Social networking can feel like a mondo headache for freelancers. It doesn't look like other platforms, like Facebook and Instagram, leaving many people confused. Is LinkedIn for freelancers worth your time? Is it a good way to grow your business, put yourself out there, and meet the right people? 🤔
Let's explore. In this blog, we'll quickly debunk a couple of misconceptions about LinkedIn before getting into how to set up your profile, how to create engaging posts, and how to use LinkedIn to land clients.
LinkedIn for Freelancers: Is This the Right Platform for You?
My method for landing clients (and what I teach in Revenue Spark) relies heavily on LinkedIn. Freelancers have a few common objections to this, namely that (1) LinkedIn is for people looking for jobs (read: employees, not freelancers), and (2) you can't land clients on LinkedIn.
False on both counts!
LinkedIn is for professionals, period. Whether you're a 9-5 employee, freelancer, consultant, you name it, there are opportunities on this network for you.
Let's address that second objection. Some believe that LinkedIn is only for employees looking for jobs, which means that there are companies indeed using LinkedIn to hire.
Why would anyone assume that there aren't any companies looking for freelancers?
You don't need to spend hours and hours on LinkedIn every week. But investing even just a little time can reap serious rewards. Let's get into some of the details.
Setting Up a LinkedIn for Freelancers
First things first: Let's start with your profile. There are three main elements you want to consider here:
Your headline.
Your summary.
Your job history.
Let's start with your headline. I'm talking about that bit of text under your name.

This is often the first thing people see. There are three things you need to convey in your headline:
Who you are.
What you do.
Who you help.
Make these things crystal clear right off the bat, and it'll help you not only connect with the right people but rank high in search results. (More on that later, so stick around!)
Your summary is below this. It's the space LinkedIn gives you to tell people more about yourself.
Think of the summary as an extended version of the headline. This is your opportunity to go into more detail about your experience, skills, who you work with, and what types of freelance clients you're looking for.
Lastly, we've got your job history. Take advantage of this, especially if previous jobs reflect what you're trying to build as a freelancer today. Additionally, remember that your most current position should be as the founder of your own company. 👍
When it comes to exactly what to say on your LinkedIn page, it helps to include relevant keywords. This is because LinkedIn is actually a search engine, not unlike Google. So, how do you find the right keywords, and how do you use them? I've got a free guide on LinkedIn optimization, so be sure to check that out for more details.
It's worth sitting down and spending the time to make a really high-quality LinkedIn page. You want it to be a good reflection of you as a professional. Furthermore, if you optimize it properly, then in addition to tracking down new clients, they'll also find you. This is because you're going to show up more in search results when people are looking for a freelancer like you. Pretty cool, right?
Using LinkedIn for Freelancers to Get More Post Engagement
There's one thing you need to know about the LinkedIn algorithm: If it sees that people like your content, then it's going to push your content to more people. The goal, then, is actually to create content for humans first and algorithms second.
Here are a few things to keep in mind:
Your posts should educate, entertain, or a combination of the two.
Write in short paragraphs.
Sprinkle emojis throughout your posts to add a little bit of color.
End with a strong call-to-action (CTA), asking people to leave a comment.
Include three to six relevant hashtags. (I have a blog on how to use hashtags on LinkedIn).
A CTA is especially important because LinkedIn wants to see your posts getting a lot of engagement — likes, comments, and shares. If you can get people talking, the platform is going to reward you.
Here's an example of one of my own posts: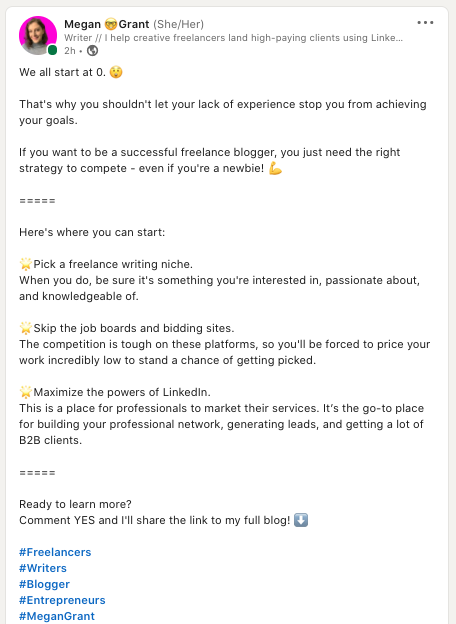 I make sure to follow the tips I mentioned, and it's helped improvement my engagement significantly.
If you want to learn more about how the LinkedIn algorith works, watch this video:
And if you'd like more LinkedIn post tips for boosting your engagement, you might like this video:
Using LinkedIn to Land Freelance Clients
By now, you've set up your LinkedIn profile and started creating high-quality posts. Good job! 🎉 Now, we're going to talk about using LinkedIn as a tool to connect with people you're interested in working with.
One of the simplest ways to use LinkedIn to find clients is to search your niche, filter by Companies, and then go through those results.
For example, because I work with a lot of fitness brands, I might search "fitness," filter by Companies, and then go through those companies to see who already has a blog (because I write blogs).
Then, you want to connect with an employee in that company, who you will ultimately pitch your services to.
You can also search by people. If you're a freelance writer, for instance, you can search "Editor," "Content Manager," or something like that and then filter by People.
LinkedIn boolean searches are also incredibly helpful.
However you go about it, the goal is to ultimately connect with another human being who you can talk to about the services you offer and how you can help them.
There are your three steps for using LinkedIn for freelancers:
Set up your profile.
Post high-quality, engaging content that entertains and/or educates.
Use the search function to find people you want to pitch your services to.
I can't say it enough: LinkedIn for freelancers is a goldmine. I wouldn't be running a six-figure business without it. If you'd like to learn more about how I leverage LinkedIn outreach and warm emailing to land clients, check out Revenue Spark and book a call with me.